Small businesses are an extremely crucial part of American Life because they are the lifeblood of our whole economy. Most businesses are small to medium in size and are the foundation upon which our entire country and economy was built.  Please enjoy our new quarterly feature called "Small Business Spotlight" that highlights a small business in our surrounding area.  This quarter our "Small Business Spotlight" is Tribute Funeral Homes located in Greenville, Ohio.
---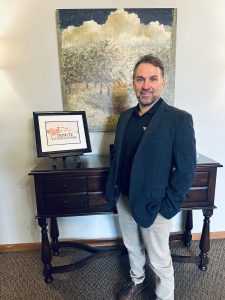 Name/Title:  Eric Fee | Director

Name of Business:  Tribute Funeral Homes
Briefly describe your business: Helping people through the toughest time in life through personalization, care, prayer and celebration of their family's life.
When did your business start? 2007, with the purchase of our first funeral home in New Madison.
How did you get started in this business? Pastored for several years in Darke County and building relationships in the funeral business. Working for Hospice for several years then transitioning to the first funeral home in New Madison.
Where do you see your business in the next year? Through the last 16 years we have experienced consistent growth and see through the next year to continue growth through personalized care to the families of Darke, Mercer and Preble Counties.
How has Greenville Federal helped your business grow? Greenville Federal has helped with our business through the growth spurts with the care and personal investment they give to small local businesses that only a hometown local bank could give.
What is the one thing about your business that people may not know? Many people do not realize that if they pre-arranged with another funeral home, they can switch to Tribute at no cost to them and they will receive the exceptional service and care we call "The Tribute Way".
What is your favorite thing to do when you are not working? I enjoy spending time with family in my spare time.  My family will always be #1 in my life.
---
To learn more about Tribute Funeral Homes, please follow them on Facebook by Clicking Here.