03/16/2020:

COVID-19

7/23/2020: UPDATE: Mask
To comply with the State of Ohio's mask mandate that went into effect on Thursday, July 23rd, Greenville Federal will be requiring everyone to wear a mask when entering any of our banking centers. We appreciate your cooperation as we all do our best to keep everyone safe.
---
7/6/2020: UPDATE: Welcome Back!
Welcome back to lobby service! Our GF team has been serving you through our drive-up lanes, on the phone, and through our digital banking services during this period of disruption. We are pleased to announce the re-opening of our lobbies, effective Monday, July 6th. Please visit a nearby GF Banking Center to meet your banking needs or utilize free GF Online Banking, our fee FREE Allpoint ATM network or give us a call.
We please ask when visiting our lobbies that you please follow our guidelines found below. Thank you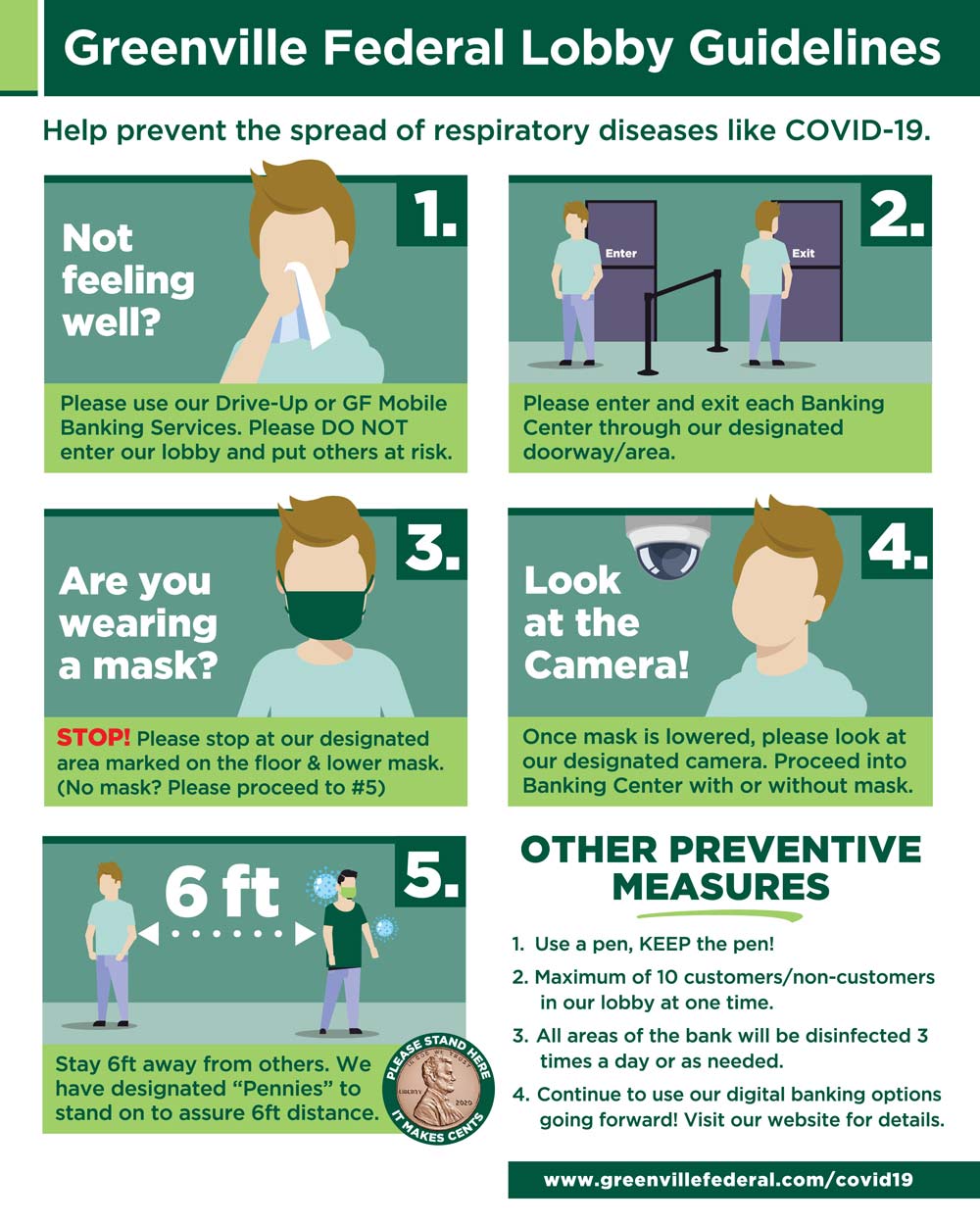 ---
3/20/2020: UPDATE: Important Information Regarding the COVID-19 Virus
 Our Drive-Thru is Open for Business
In an effort to protect our customers and GF Teammates and limit the transmission of the COVID-19 Virus, Greenville Federal is adjusting our lobby access to "by appointment only".  Starting Monday, March 23rd, our lobby will be closed to all general banking activities.  Our drive-thru will be open as usual.
 We ask that all general banking activities be done by using our drive-thru, our free online & mobile banking or free tele-banking options.  We also offer our fee-free Allpoint ATM network with over 55,000 ATMs to choose from.
 We will be accepting appointments for loan and deposit services so please call the GF Office that best fits your needs to schedule an appointment.
We apologize for this inconvenience and appreciate your understanding.  None of us like having to make these changes but the safety of our customers and teammates is our top priority.
Thank you for your support as we all do our best to protect our community.    
Understanding Cash during this difficult time. Please CLICK HERE
---
3/17/2020: The health and safety of our customers and teammates is of the highest priority here at Greenville Federal.  Through reports from the Center for Disease Control (CDC) and other governmental agencies, Greenville Federal continues to closely monitor the Coronavirus (COVID-19) situation.
All Greenville Federal locations will remain open when you choose to visit in person.  Hand sanitizer is available for customer use. Teammates have received recommended prevention guidelines provided by the CDC; however, we recommend if you have recently had the flu or may be sick with the flu, wear a medical mask due to health concerns or have traveled outside the country in the past 2 weeks, that you please utilize our Drive-Thru lanes or our FREE Online or Mobile Banking services.
Greenville Federal offers a number of ways for you to access your account and to perform banking transactions electronically, without you having to come into the bank. These include:
ONLINE BANKING: Free On-line banking through Greenville Federal's website: www.greenvillefederal.com. If you haven't already enrolled in on-line banking, all you need to do is click "Enroll" here.  Feel free to call us if you need any help.
GF MOBILE BANKING: Free GF Mobile banking on your smart phone or tablet with the Greenville Federal mobile banking app.  Just download the app from your app store.  We will be happy to walk you through the easy process.
TELEPHONE BANKING: Free Telephone banking by calling our toll-free number at 800-436-5190.
ATMs: Greenville Federal customers can use their debit cards to withdraw funds surcharge FREE from any of the 55,000 Allpoint ATMs. Click on – Find an ATM near you!
It's easy to manage your account digitally and we'd be happy to answer any questions or concerns you may have. Please visit our "Contact Us" page to call the banking center closest to you.
As we continue to monitor the situation with COVID-19, please check our website for additional details.
For additional information visit the Centers for Disease control at cdc.gov