Debit Card Changes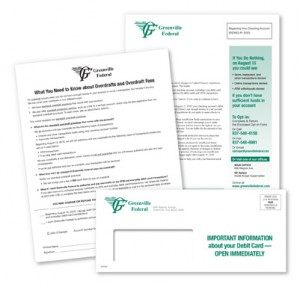 BEFORE August 15, 2010 your debit card has automatic overdraft protection privileges that can help you in an emergency or in case of a simple mistake.
AFTER August 15, 2010 your non-sufficient funds debit card and ATM transactions will be declined unless you "opt-in" to the overdraft protection service.
Without your opt-in, your debit card purchases at the supermarket, drug store, restaurant, or anywhere else you use your debit card will not be honored if there's not enough money in your checking account.
Likewise, you cannot withdraw cash from any ATM if your checking account is under-funded.
(The new federal regulations do not apply to paper checks or automatic payments.)

2 Easy Ways to Opt-In
Call us at 937-548-4158
Mail in form
We reserve the right to decline any transaction for insufficient funds, your opt-in agreement tells us you choose to have no interruption in the daily processing of your debit card and ATM transactions. The customary overdraft fee will be added when applicable.