President's Message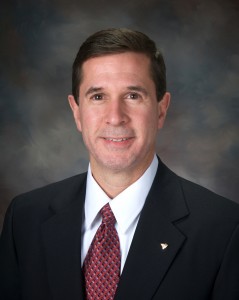 A Personal Message from Your President
Our expansion into Miami County has been nothing short of spectacular. As we celebrate close to three years in the new Troy Kroger Marketplace store, we are very pleased with the community response and couldn't be more excited to bring our style of customer-focused banking now to the good people of Tipp City. There is a difference in banks and we are confident the community of Tipp City will enjoy the GF option for all their banking needs. Stop in today and meet our NEW Tipp City Banking Center Team and enjoy the ultimate smart way to bank!
Seven years in a row Greenville Federal has earned a coveted 5-Star Rating from Bauer Financial, Inc., the nation's leading independent bank rating firm, giving us the distinction of being one of the strongest banks in the nation. It is the highest rating any bank can achieve. "Not only has Greenville Federal proven its efficacy yesterday and today, it is also primed for whatever tomorrow may bring," observes Karen L. Dorway, President of Bauer Financial. "The past several years have put a considerable amount of pressure on our nation's banks and we are pleased to see community banks, like Greenville Federal, still able to shine."
FREE GF Mobile continues to be a hit with customers. Have you tried our FREE GF Mobile banking service? It is a convenient way to check balances, transfer funds, pay bills, and make deposits and more! GF Mobile is FREE and easy to use, so download our app and try it today.
GF 55,000 fee free ATM's is a big hit too! Heading out of town and you forget to get cash for the trip. You're thinking I will just have to find an ATM at another town and pay the high fee to get some cash. Not anymore if you are a GF customer. We now offer 55,000 fee free ATM's worldwide so relax and don't worry about paying high ATM fees because as a GF customer, we won't charge you a cent. Download our FREE Allpoint app today and check it out. You'll love this free service!
GF provides 24/7 access to personal storage boxes. Don't you hate it when you're getting ready to go out of town and you realize you don't have your passport or other important documents? You're thinking now I have to wait until the bank is open to get to my safety deposit box. Not anymore if you are a GF customer. We offer 24/7 access to your personal storage box at both our Greenville Kroger and Troy Kroger banking centers so relax and don't worry about not having quick access to your important documents. We have you covered. Ask any GF Teammate about this great service today!
Bringing all of our customers the latest in technology, new products and services, great loan and deposit rates and low fees, is what we do day in and day out at Greenville Federal. We are a proud Ohio bank serving our communities since 1883 and looking forward to serving you!
Thank you for banking with us and remember to use one of the Tell-A-Friend coupons our GF teammates hands you and refer a friend to us. You both will receive a gift for doing so! We look forward to serving and seeing you soon. As always, stop in and let's talk.
Jeff D. Kniese, President & CEO
NMLS #824743