Simply Deposit

Simply Deposit®, designed specifically for small businesses and low volume check processing, is a secure, web-based Remote Deposit Capture (RDC) client application that makes it easy to deposit checks electronically. Now small businesses can take advantage of the convenience and cost savings associated with RDC including reduced trips to the bank, later deposit cut-off times, quicker access to funds, faster deposit preparation, and enhanced security.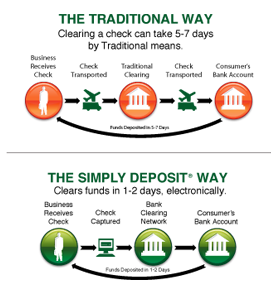 Simply Deposit the Power of RDC Made Easy!
Easy to use
Easy to maintain
Easy to deploy
The intuitive user interface within Simply Deposit requires little or no training. Simply Deposit automatically reads (CAR/LAR) and enters the check dollar amount allowing you to make a deposit in less than a minute!
With Simply Deposit you can also record basic transaction information such as payor Name and Invoice Number. This information is stored and associated with the deposit, and made available in the Simply Deposit reporting module. Through its reporting functionality, you can review a summary of weeks of transactions, or drill down to a single check to view the front and back images and all of the associated information with just a few mouse clicks.
In its second release, Simply Deposit now makes it easier to afford RDC by supporting TWAIN flatbed scanners, which many small businesses already have, to capture and process check images. In addition to your standard flatbed scanner, Simply Deposit also supports a wide variety of dedicated check scanners for speed and convenience.
Simply Deposit's Apply Payments feature offers seamless integration into accounting systems so you no longer have to key data into two disconnected systems. With the new Apply Payments feature, payment information entered into Simply Deposit is automatically transferred into a business's accounting software. Payments are applied directly against open customer invoices or against any general ledger account. Customer and account balances are instantaneously adjusted when the data is entered into Simply Deposit.
Need more information?
Please stop in, we would be glad to answer all of your questions!