President's Message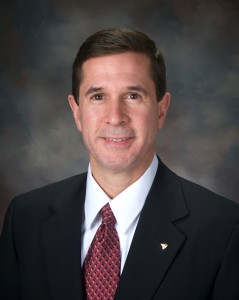 A Personal Message from Your President
Have you ever heard the phrase "the best of both worlds"?  Most people would like to have the "best of both worlds" in many things they do or with products and services they use. In banking, that usually means getting low loan rates and fees along with high deposit rates and the latest technology from a true local bank. Many times, a person has to choose one or the other. Do I want a variety of products and services with the latest technology and possibly pay high fees, or do I want local service where I am known by my name and pay lower fees for products and services? Many people think this is a tough choice, but it doesn't have to be.  At Greenville Federal, we offer a variety of products and services with the latest in technology and local service where people know you by name. When you choose to do all of your banking with Greenville Federal, you get the "best of both worlds". A wide variety of products and services with the latest in technology AND that local hometown bank with personal service where we know you by name.
Whether it's GF FREE on-line banking and Bill-Pay or FREE GF Mobile banking or GF FREE Checking + Gift, we offer many products and services free of charge and with the latest technology. Also, at Greenville Federal, we service all of our loans and deposits right here at our Main Office in Greenville, Ohio. We don't sell your loan and have you send your payments to another county or state. We want to service your loan locally where if there is a problem, you will have a local person working with you. Speaking of LOCAL, every penny we earn stays right here in Greenville, Ohio helping our local economy. So if you enjoy working with a true local company and like to "keep it local", then by having all of your banking with Greenville Federal is the way to support a local company and have "the best of both worlds".
4-PEAT: Greenville Federal has once again earned a coveted 5-Star Rating from BauerFinancial, Inc., the nation's leading independent bank rating firm, giving us the distinction of being one of the strongest banks in the nation. It is the highest rating any bank can achieve. "Not only has Greenville Federal proven its efficacy yesterday and today, it is also primed for whatever tomorrow may bring," observes Karen L. Dorway, President of BauerFinancial. "The past four years have put a considerable amount of pressure on our nation's banks and we are pleased to see community banks, like Greenville Federal, still able to shine."
Introducing GF Mobile. Have you tried our new GF Mobile banking service? It is a convenient way to check balances, transfer funds, pay bills, deposit checks and more! GF Mobile is FREE and easy to use, so try it today.
Bringing all of our customers the latest in technology, new products and services, great loan and deposit rates and low fees, is what we do day in and day out at Greenville Federal. We do all of this as a true local bank. When you bank at Greenville Federal, you truly are getting "the best of both worlds."
Thank you for banking with us and remember to use one of the Tell-A-Friend coupons our GF teammates hand out and refer a friend to us. You both will receive a gift for doing so!  We look forward to serving and seeing you soon.  As always, stop in and let's talk.
Sincerely,
Jeff D. Kniese, President & CEO
NMLS #824743